You know, Yukari Miyake the singer in the Yokosuka Band joined the Training Squadron 2019 and visited 13 ports of 11 nations around the Pacific Ocean las year.
 I posted an article titled "Itinerary record of Yukari Miyake @Training Fleet (1st half)" in September last year when the trip was stil underway. 
   At the beginning of 2020, I would like to present you the 2nd half of it, as an article written in English for the first time in three months.
   The summary of itinerary of the Training Squadron 2019 is as the chart below and the previous article covered up to the visit at papeete, french polynesia.
  This report starts with a photo in which four officers are jogging on the deck of the Training Vessel "Kashima" taken on the way from Tahiti to Fiji. Do you know anyone out of them? No one? How about the female runner wearing sun glasses? You probably notice who she is. Right, she is Yukari Miyake. She is almost an athlete who does abdominal training more than 1,000 times. Amazing!
Suva, Fiji
   23-27 August 2019, Training Squadron visited Suva, Fiji. In the evening of their arrival at Suva, the TS Band held a concert on the flight deck of JS "INAZUMA". Holding the mike in her left hand as usual, she looks really enjoying singing.
   With no information provided, I cannot mention  what pieces were performed in this concert. Still however, I'm sure that their performance cheerd the audience (ship's crew and young trainee officers) up.
   Next morning, Training Squadron welcomed his excellency the Minister of Defense of Fiji onboard. In the welcome ceremony TS Band performed the natonal anthems of both nations and Yukari Miyake (left end in the photo below) was on symbals.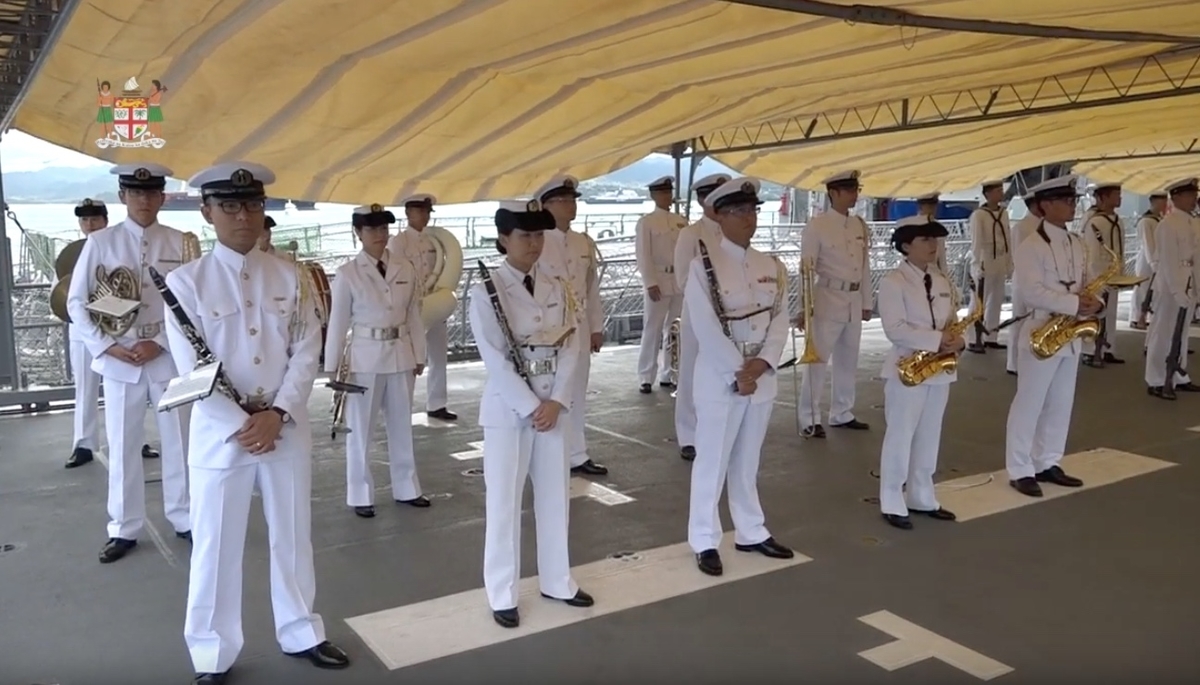 And in the evening the same day, the Training Squadron invited many people in Fiji to the onboard reception on "Kashima". Yukari Miyake sang national anthems of both nations at the beginning of it. 
   James Sloan, an attorney and one of Fijian invitees to the reception, gave me a video and a comment -  "People in Fiji have not heard their national anthem sung like that before - it was very popular and well received."  
   On 26 Augst, there held the joint concert by TS Band and Fijian Military Band. I have no idea how the concert was nor what the program contained, however the photo below shows us that it was held in very good mood. It's "Smile" that makes us all feel happy, right?
   Photo below shows TS Band performing on the stage of the concert - Yukari Miyake is in front and singing some song.
Auckland, New Zealand
   The next visit after leaving Fiji was mid-winter cold Auckland, New Zealand. It was "the princess pier" in front of the Hilton Hotel that the ships of Training Squadron moored at on 3rd September a day before originally scheduled. Auckland is one of the most beautiful cities in the world, I suppose. 
   In the evening of probably the day of their arrival, there held the onboard reception at the flight deck of training vessel "Kashima" and Yukari Miyake sang national anthems of both nations as she had done in every port previously the Squadron visited (photo below). Unfortunately there is no video provided up to now.
   I personally prefer her figure dressed in black winter uniform to summer white.
She looks more sharp and cool when dressed in black, I suppose.
     On 5th September, there carried out the joint concert by TS Band and Royal NZ Navy Band at the front yard of the War Memorial Museum.
   A Japanese tourist happened to come across the concert and uploaded a video which shows us Yukari Miyake singing "You Raise me up". Unfortunately it's too short,but her crystal clear voice is enough to heal us! 
もちろん、美しい歌声はニュージーランドの方々も魅了。 pic.twitter.com/TtgPSfuuDj

— りすぴ@実は「ラッコぴ」 (@ponchlkl60) 2019年9月5日
    There's another video provided by Royal New Zealand Navy. The joint Band is performing "March Man-of War (Gunkan)" and you can see Yukari Miyake playing on symbals.
   Early in the morning on 7th September, the Training Squadron departed Auckland. At that time, no photo nor video of TS in NZ was uploaded, so three pictures of departing ships were the first images we could see. Can you guess who provided them to me? Thanks to James Sloan. As I earlier mentioned, this Fijian attorney gave me Yukari Miyake's video recorded at onboard recdption held in Suva, Fiji. He happened to visit Auckland in order to get some books there and found the departing squadron.
Sydney, Australia
 13-18 September 2019, Training Squadron stayed for almost a week in Sydney, Australia, and carried out many events to enhance bilateral friendship and reliance. As for TS Band, they held a joint concert with Royal Australian Navy Band at the Martin Square in midtown Sydney on 16 September. Yukari Miyake sang several songs including "You raise me up" and her original piece "Inori 〜a prayer〜".
"
    I tried to edit a video uploaded on twitter, please click and enjoy it.
    After leaving Sydney, Training Squadron headed Rabaul, Papua New Guinea. On the way, they concucted the wreath laying ceremony at sea for many war dead officers and sailors of both Imperial Navy and U.S.Navy. TS Band (making lines near the rising sun flag in photo below) supported the ceremony by playing requiem.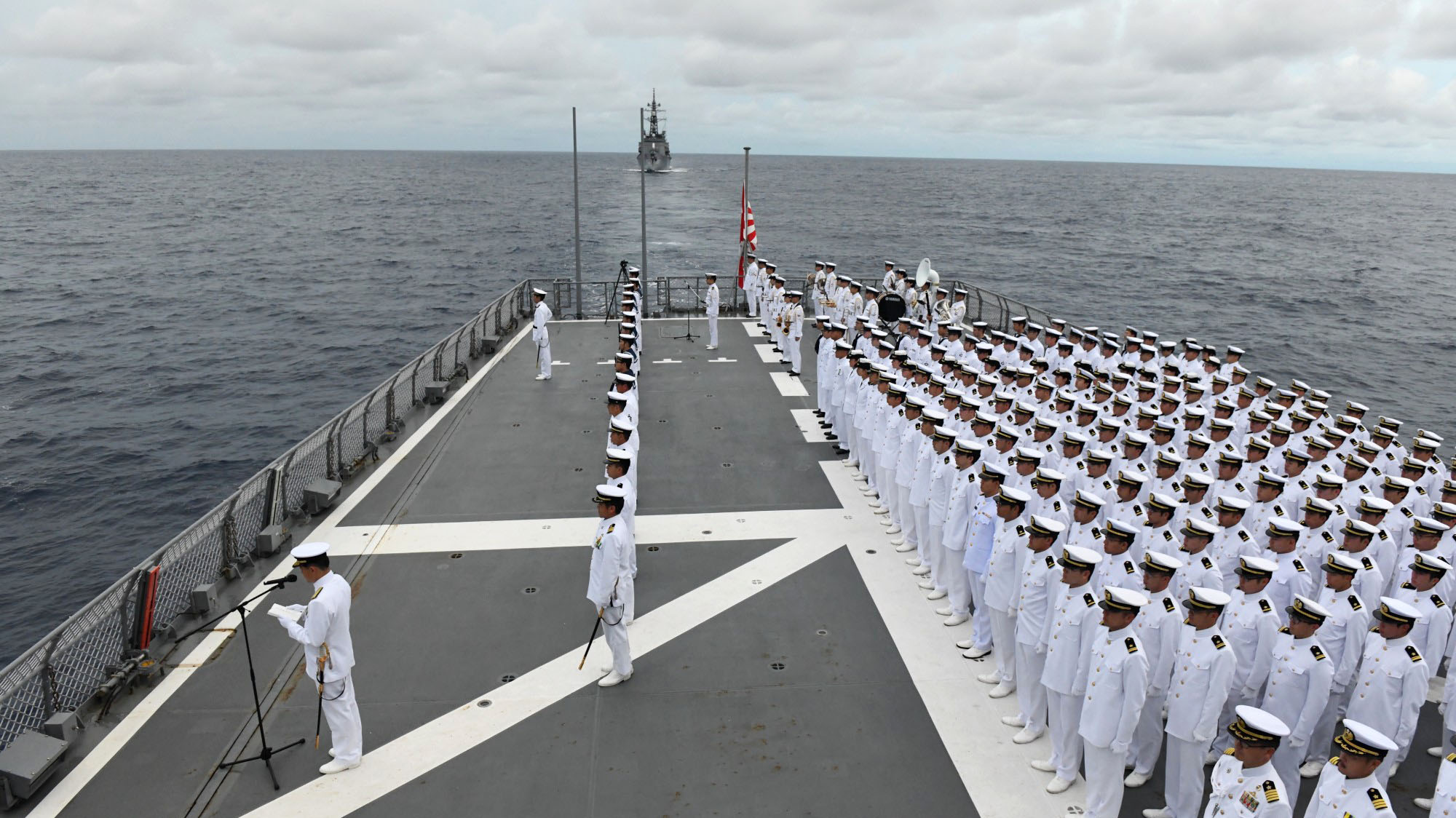 Rabaul, Papua New Guinea
   26-29 September 2019, Training Squadron had made the fisst visit in its history at Rabaul, Papua New Guinea. As you know, Imperial Navy and Army stationed air squadrons at Rabaul during WWⅡ. And the Training Squadron 2019 was the first Japanese Armed Force visited there after the War.
   The people there welcomed the Squadron's visit sincerely.
   In the evening probably of their arrival there, the Squadron invited many people to the onboard reception and Yukari Miyake of course sang national anthems of both nations at the beginning. Click and enjoy her singing then.
   On 27 September, TS Band held an out field concert at a park in Rabaul city. Concert in the spacious park rich in greenery looks fantastic and fascinating.
   See Yukari Miyake's powerful performance on the stage! She looks more dynamic in performance than she was before leaving japan.
Koror, Palau
   As you all know, Palau was Japan's mandate territory until Japan lost the Great East Asia War. And in spite of the anti Japan education forced by U.S. after the War, Palau stays as Pro-Japan nation even now.
   Training Squadron visited Koror, Palau 8-11 October 2019, but unfortunately only a few information was provided. 
   On 9th TS Band held a concert in the city and Yukari Miyake sang several songs for the audience there (photo below).
    A Japanese staying there enjoyed her singing and uploaded a video on twitter. Click and check it!
海上自衛隊の歌姫!?😲💕
**ブレ々で申し訳ない.... 💦 pic.twitter.com/LC1ZgTpxzF

— Palau_PPR (@Palau_PPR) 2019年10月9日
Guam, U.S.A.
   Lastly, Training Squadron visited Guam, U.S.A. 15-18 October. During syay there, no video was provided, so only photos tell us how was the visiting there and how performed the TS Band in the lunch time concert etc.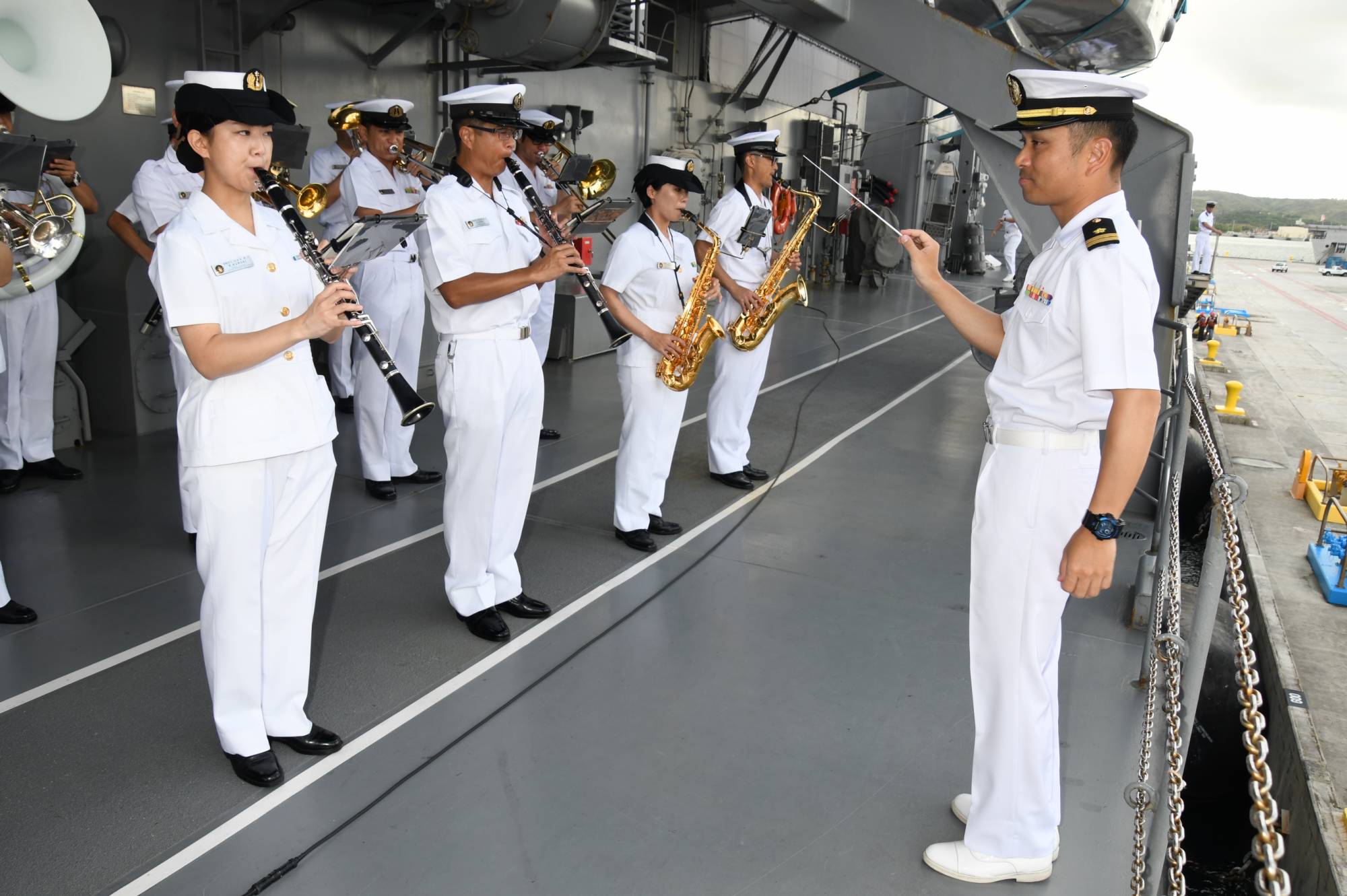 In Guam, the Squadron hosted the onboard reception on "Kashima" and Yukari Miyake of course sang U.S. and Japanese anthem to start the reception.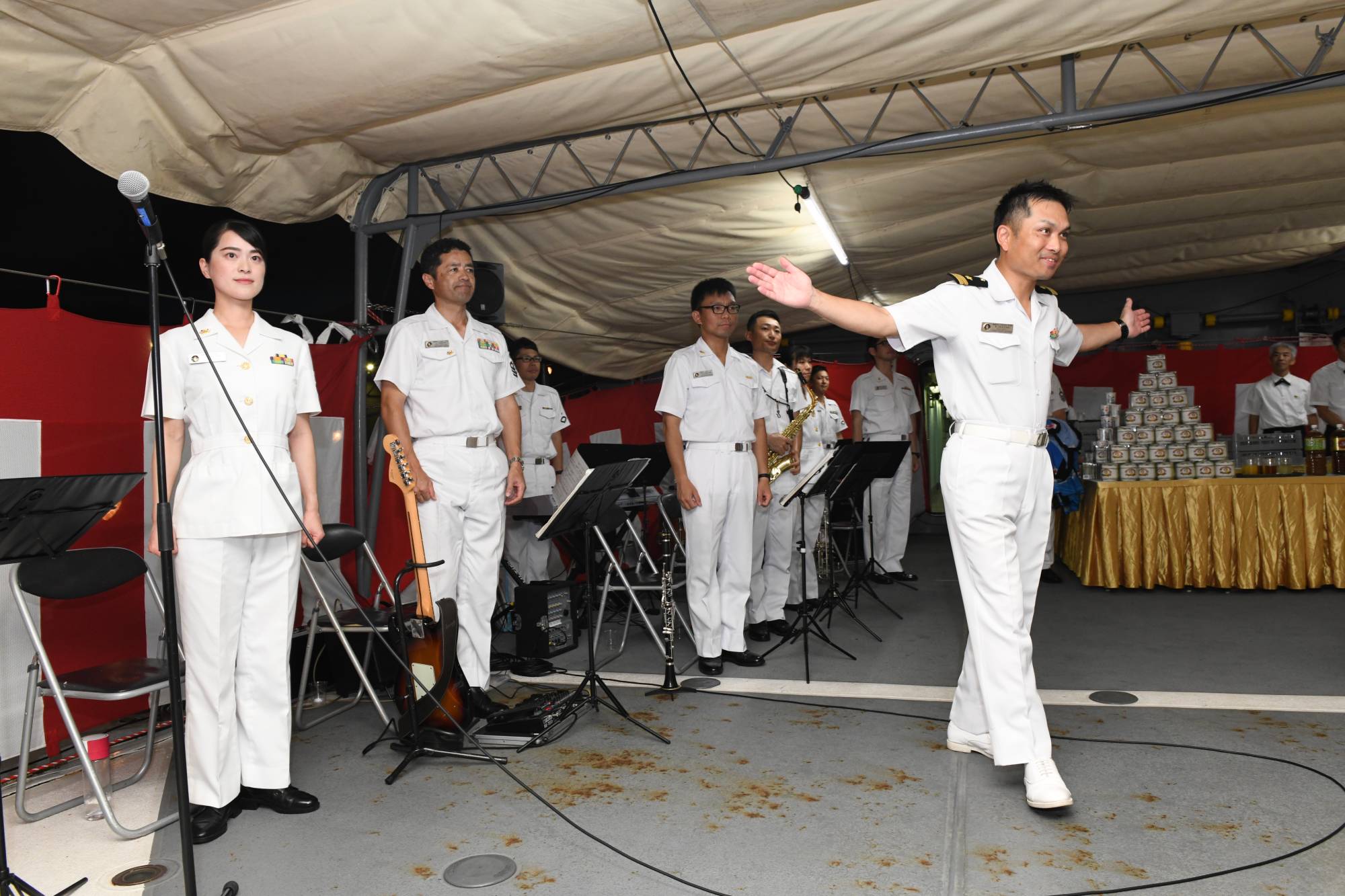 On 16th October, Ts Band held a lunch time concert at Food Court in the "Guam Premier Outlets". As I mentioned earlier, there's no video but some photos are provided by JMSDF so you can imagine what the concert was like, can't you?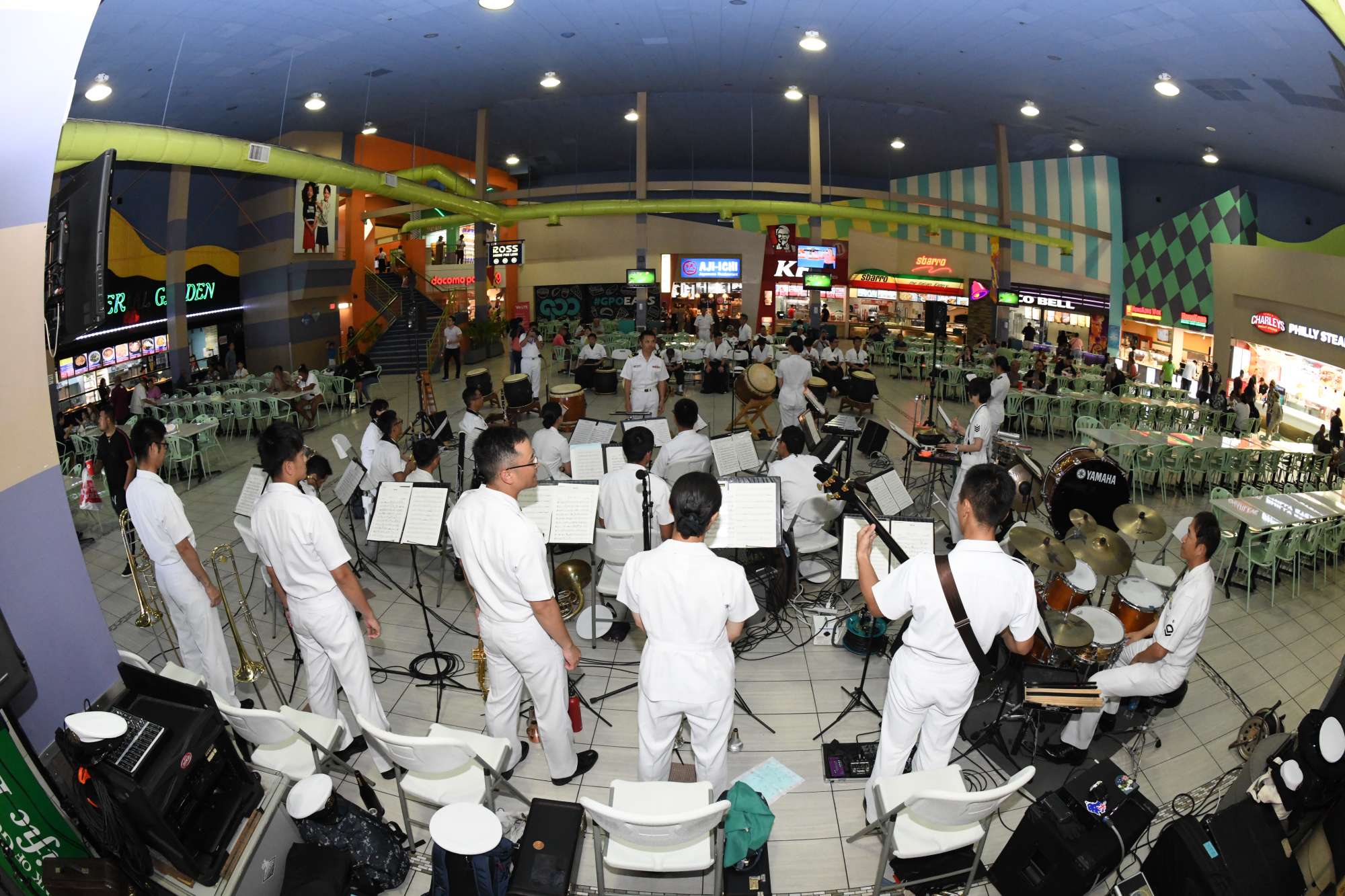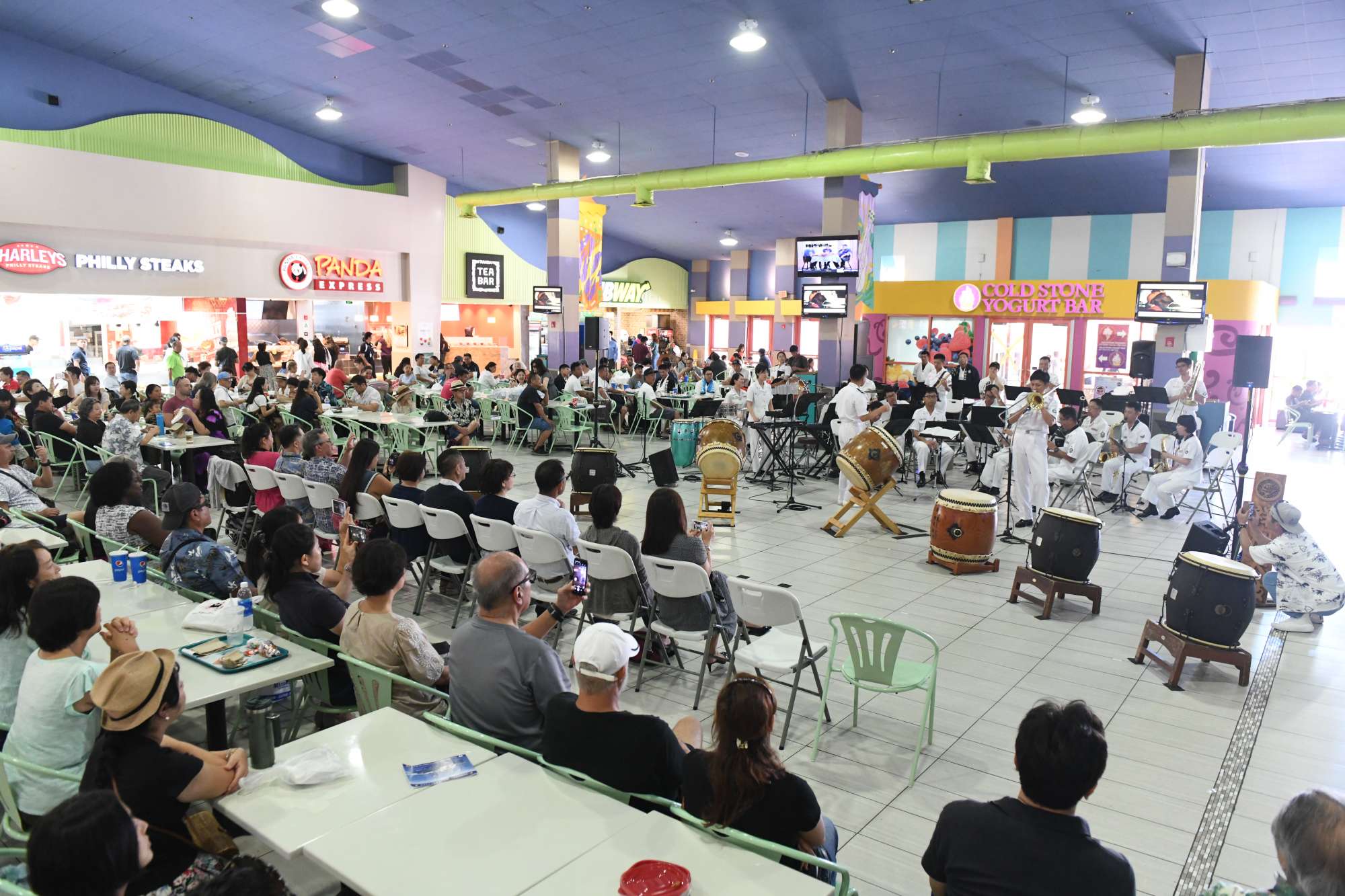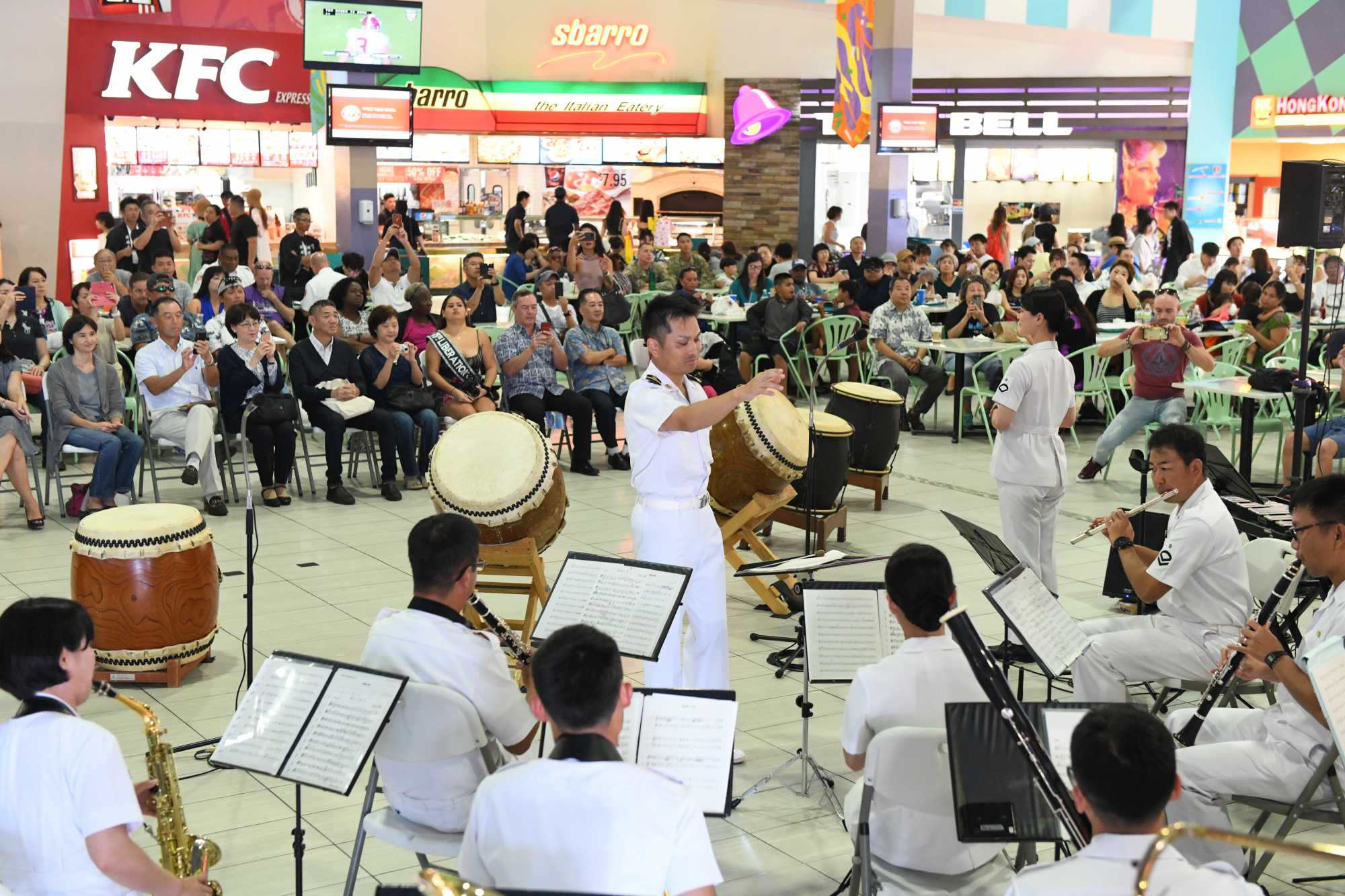 TS Band performs farewell to people in Guam who were on the pier to see Japanese Fleet off.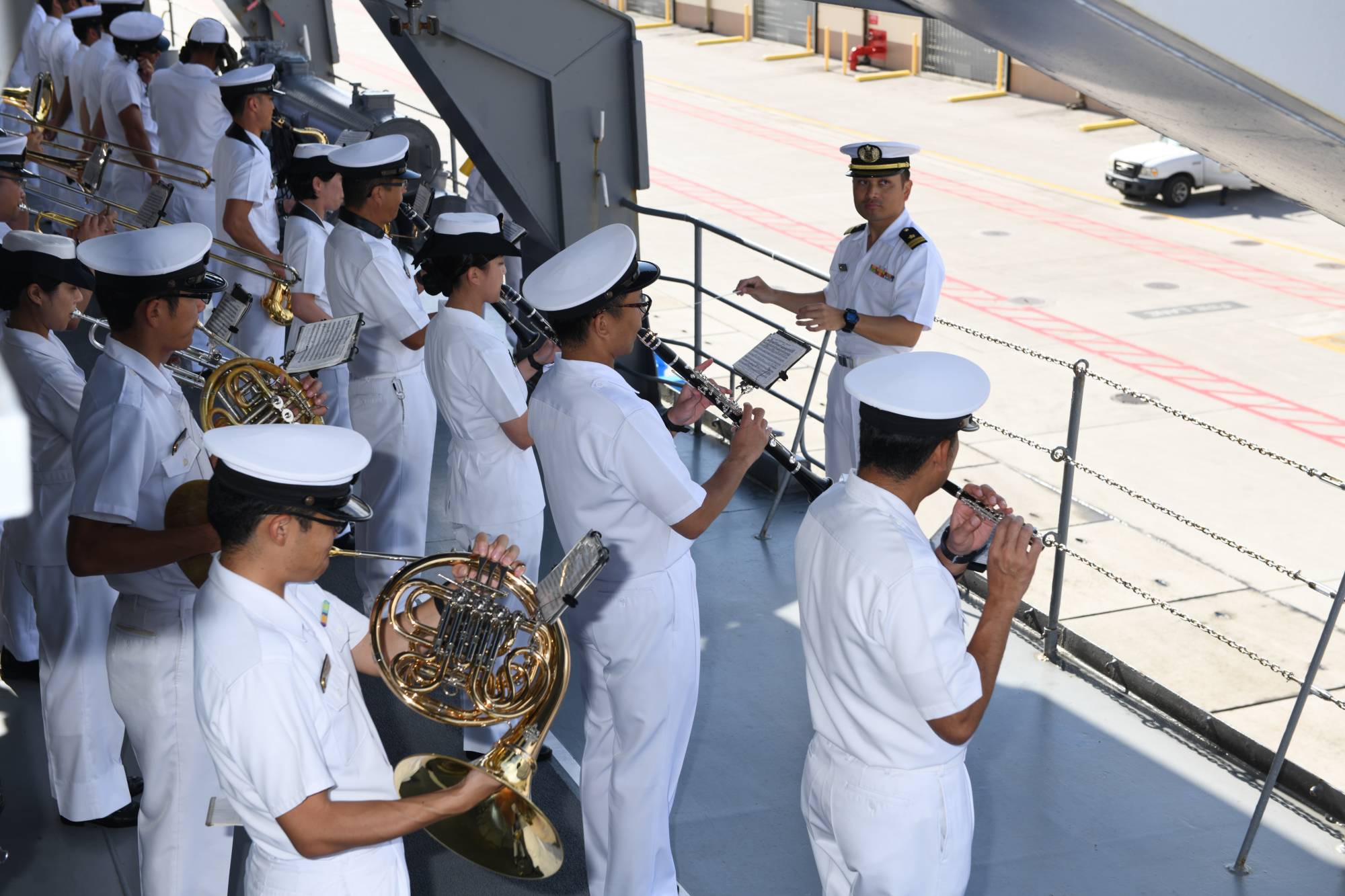 All missions in ports were completed! The last destination is "Yokosuka" Japan!
Yokosuka, Japan
 Welcome back!
   After 5 months mission tour, Yukari Miyake finaly arrived back in Japan. I look forward to see her upgraded performance from now on!
Bonus for you!
   17 December 2019, Yukari Miyake appeared on the stage of JMSDF Kure Band, and after the concert, she gave a message for her fans  all around the world.
   How was that?  I would be happy if you enjoyed this article. Thank you for reading to the end!